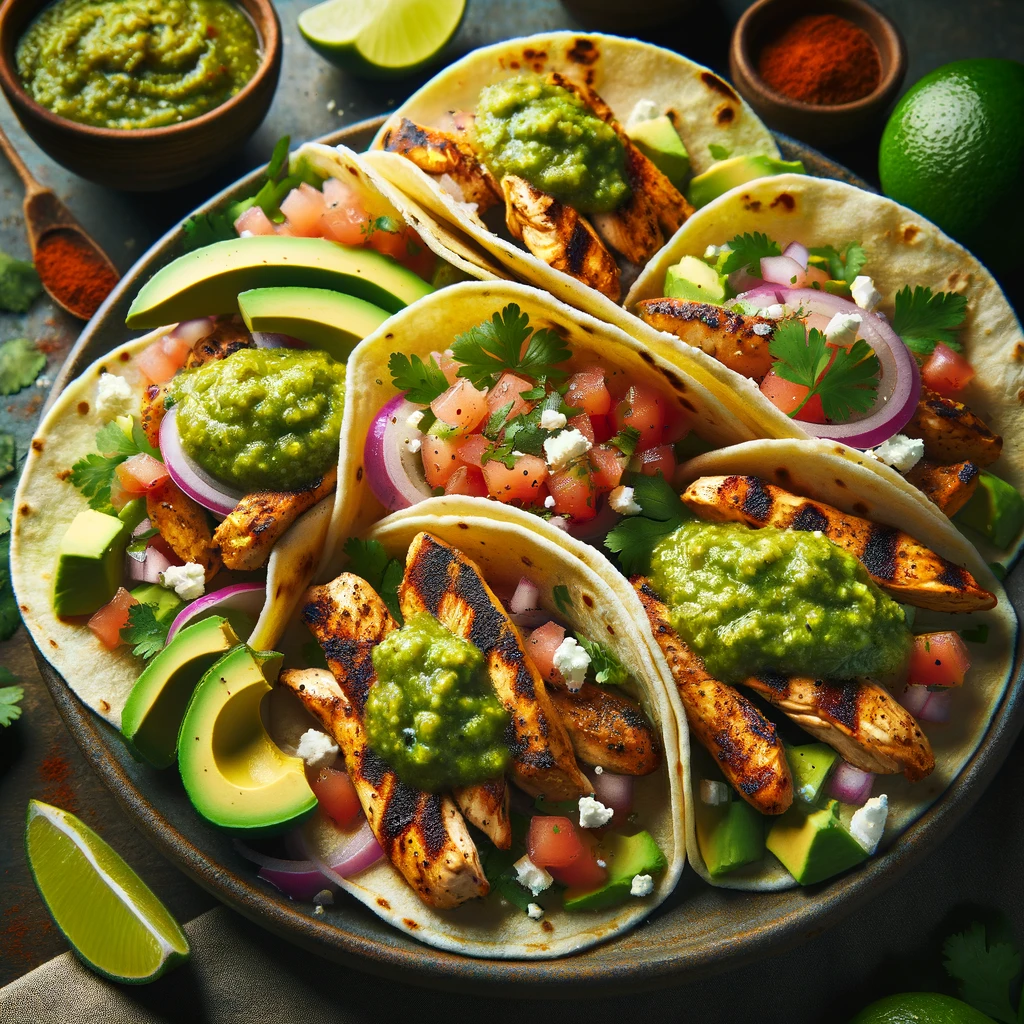 Grilled Chicken Tacos with Very Verde Salsa
Ingredients
Ingredients:
4 boneless, skinless chicken breasts
2 tablespoons olive oil
2 teaspoons ground cumin
2 teaspoons paprika
1 teaspoon garlic powder
Salt and pepper to taste
10-12 corn or flower tortillas
1 cup Happy Tomato Very Verde Salsa
1 avocado, sliced
1/2 red onion, finely chopped
1/4 cup fresh cilantro, chopped
1 lime, cut into wedges
Optional: crumbled feta or queso fresco for garnish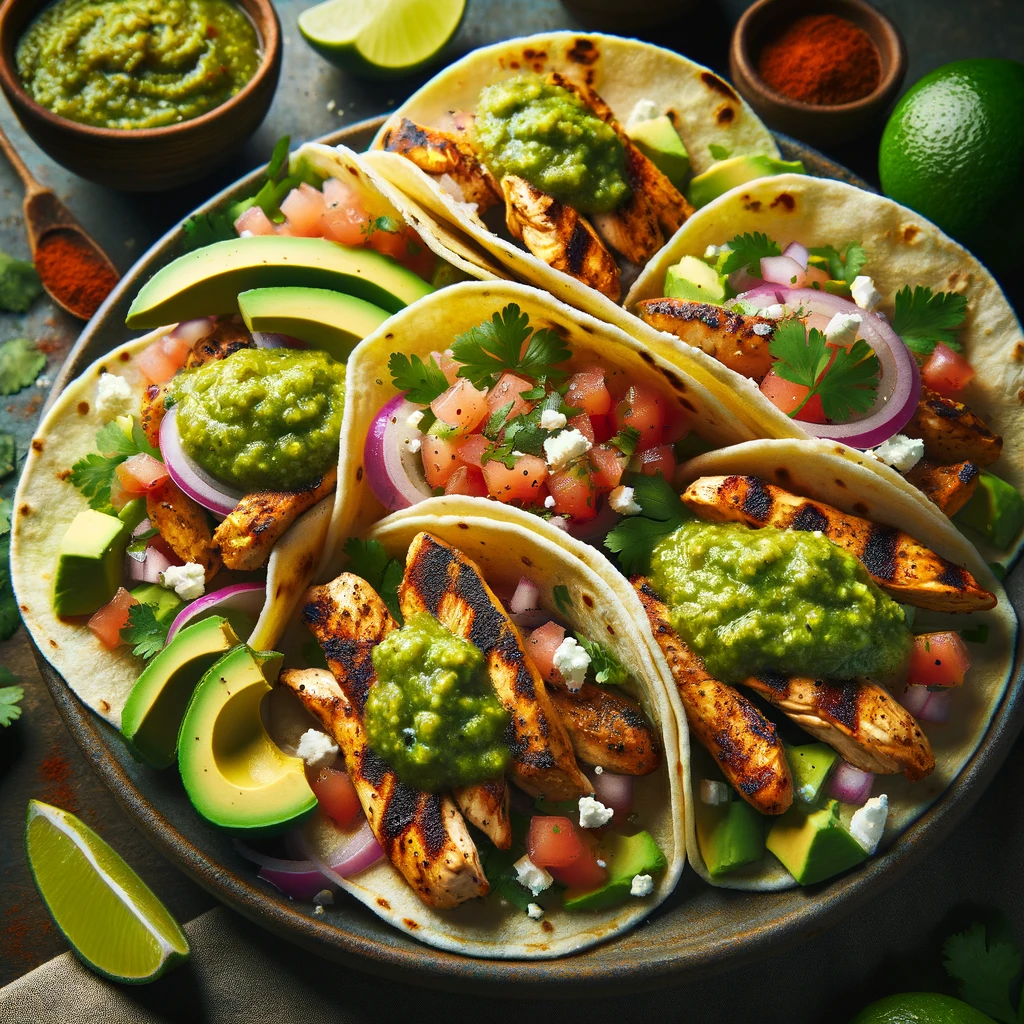 Grilled Chicken Tacos with Very Verde Salsa
🌮 Savor the Freshness with Grilled Chicken Tacos featuring Happy Tomato Green Very Verde Salsa!
Get ready to elevate your taco nights with our Grilled Chicken Tacos, brilliantly infused with the fresh and zesty flavors of Happy Tomato's Very Verde Salsa. This recipe is a celebration of simple ingredients coming together to create a meal that's bursting with flavor and freshness.
Perfect for those who love a combination of tender, grilled chicken and the vibrant kick of salsa verde, these tacos are a breeze to prepare and a joy to devour. Whether it's a family dinner, a quick weekday meal, or a fun weekend gathering, these tacos promise to bring a smile to everyone's face.
With just 15 minutes of prep and 15 minutes of cooking, you're not far from enjoying a delicious, salsa-filled experience. Let's get grilling and wrap up some joy with our Happy Tomato-inspired tacos!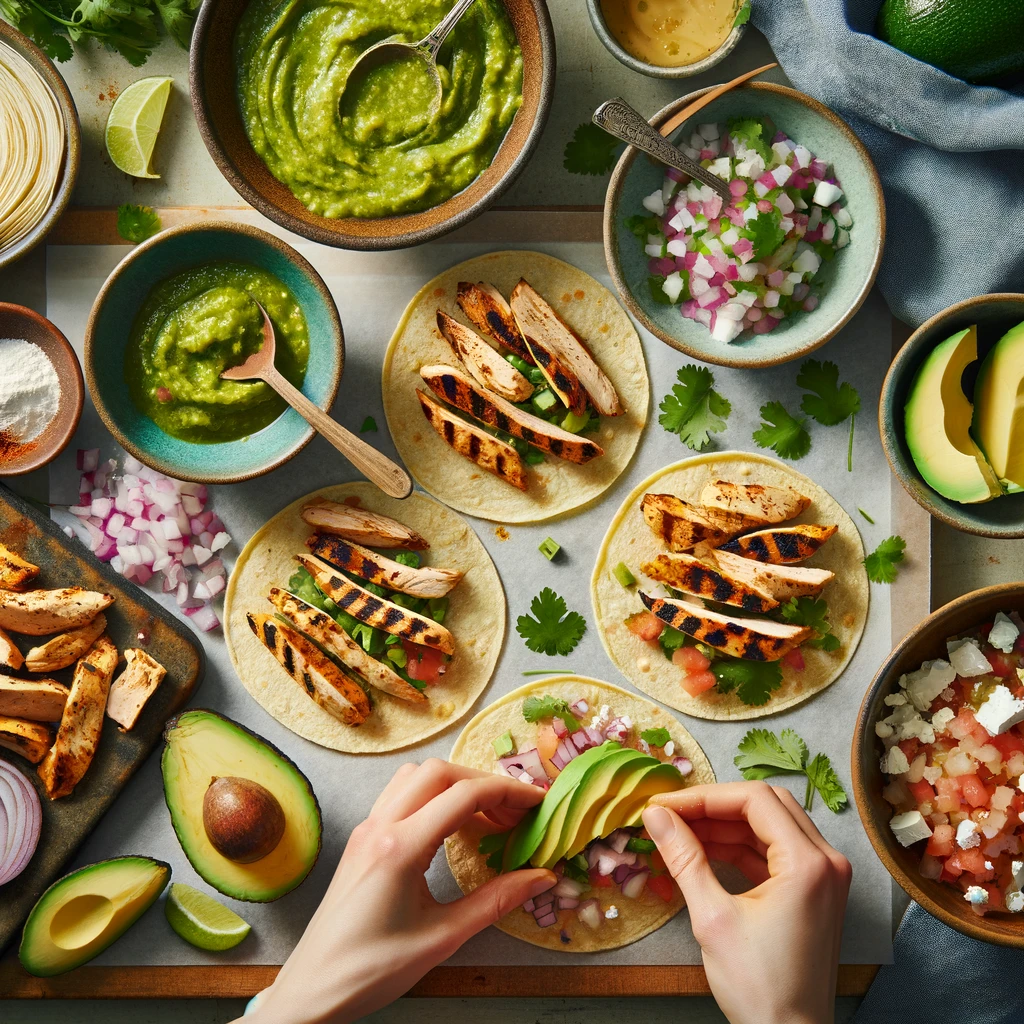 Directions
Instructions:
Preheat Grill: Preheat your grill to medium-high heat.
Prepare Chicken: In a small bowl, mix together the olive oil, ground cumin, paprika, garlic powder, salt, and pepper. Rub this mixture all over the chicken breasts.
Grill Chicken: Place the chicken on the grill and cook for 6-7 minutes on each side or until the internal temperature reaches 165°F (74°C) and the chicken is no longer pink in the middle. Remove from the grill and let rest for a few minutes before slicing into strips.
Warm Tortillas: Place the corn tortillas on the grill for about 30 seconds on each side or until they are warm and slightly charred.
Assemble Tacos: To assemble the tacos, lay out the tortillas and place a few strips of grilled chicken on each. Top with a generous spoonful of "Happy Tomato" Green Very Verde Salsa, followed by slices of avocado, chopped red onion, and fresh cilantro.
Garnish and Serve: If desired, sprinkle with crumbled feta or queso fresco. Serve immediately with lime wedges on the side for squeezing over the top.
Enjoy your delicious and zesty Grilled Chicken Tacos, enhanced by the fresh and vibrant flavors of Happy Tomato's Very Verde Salsa! Perfect for a summer BBQ or a casual dinner with friends and family.